A parenting nugget -Kids Corner

"How do you get your child to do the right thing -- especially when you're not around?"

Part of "training up a child in the way he should go . . ." (Prov 22:6) is teaching them what God's Word says in a peaceful devotional time with your child. When you give them the "moral reason why," from the bible, as to why they should or shouldn't do something your child becomes accountable to God. Your goal is to make them accountable to God so they can make righteous decisions in life.

Example - Take two minutes to teach your child how precious every person is to God. Use a scripture and explain it. (God loved people so much that He was willing to die for them.)

Now ask your child questions. Does God think every one is precious? Should we treat others as valuable to God? How can we show God that all of His creation is important? If you called someone an ugly name would that hurt God? If you were mean to someone would you be being mean to someone God loves and cares about?

In this way you are laying a moral foundation in their conscience of what God deems valuable and acceptable in their behavior.

Around the age of 4; "Because I said so" is not a good reason for your child to obey you. Give them the God reason why and the WORD will do the work.

Training kids for Him,
Jody Heller
words submitted by...
Captain Ron
I Heard God Last Night

I heard God last night as He approached from afar
I left my tent and saw His eyes in the stars
He moved through the valley and echoed His sounds
His presence I felt was all around
His family you see were all nestled close by
I could hear Him breath His contented sigh
"Join in join in" was what I felt
And again today as I knelt
"Join in"

God Knows My Heart

Brought to a place that was real
Yet so perfect it was so surreal
Filled with sounds of brotherhood
From someone who understood
Secretly I long for a family to belong
That will love me even when I am wrong
I want them so bad I'm afraid to embrace
My Brothers and Sisters within this place
Release me, oh Father, and let me embrace
My Brothers and Sisters in this place
Contentment was mine for the moment you see
For my Father knew my heart in me
Oh Father, let me stay
Forever in this way

Dave Schenderlein
Easter
Easter became most significant to me in September 1986, as I watched a box containing my precious and deeply loved 27 year old sister drop into the earth and be covered over with dirt. Everything inside me screamed No! No! No! This cant be all there is after all these years of loving and sharing together. Since she was two years older, I had never been alive without her in my life. Despair engulfed me. She was gone. Nothing can console this kind of pain. Yet, it was not utterly dark for one outrageous hope. My sister had devoted her life to the one man who went through this horror and broke its power by coming back to life again. The man who proclaimed, I am the Resurrection and the Life. He who believes in me will live, even though he dies; and whoever lives and believes in me will never die! Right after declaring this Jesus brought life back to his close friend Lazarus (Jn 11) backing up His unbelievable words with a power and authority the world had never before seen. Jesus brought Lazarus back to physical life to face death again down the road, but in His resurrection He showed His victorious power to lead His people to an eternal life beyond the grave. This is the center of our joy in Christ- the surpassing uniqueness of the Christian faith- there is a rock solid reason for hope in the worst life has to dump on us. We can echo Pauls passionate testimony, If Christ has not been raised, our faith is futile; we are still in our sins... If only for this life we have hope in Christ, we are to be pitied more than all men... But Christ has indeed been raised from the dead! (I Cor 15)
In the year before her death I received from the Lord these words of comfort to share with my sister. They are true for all of us in the earthly struggles we face.
Jesus Feels Your Pain

Jesus feels your pain
He knows what you're going through
Hes there by your side
With tears in His eyes
He cares so much for you

Jesus knows your name
He made you to be by His side
He's faithful and true
When your suffering is through
With joy in His love youll abide

So love Him and praise Him
And lift up your eyes
Acceptance with joy
Brings help from on high
Have hope in your heart
He hears your cry
Let Him carry you home ...
To His heart

Jesus is here with you
He will never leave you alone
His love will stay
Giving grace for each day
In you His glory is shown

Jesus calls you home
Forever to live in His love
He's opened the door
And He has so much more
For you in His Kingdom above

Blessings in Him!
Brother Dave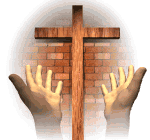 Justified Before God
By Glyn Evans
"So let us know, let us press on to know the Lord. His going forth is as certain as the dawn; and He will come to us like the rain, like the spring rain watering the earth." (Hosea 6:3)

I will realize that the war with my self-life is daily, even hourly. I cannot reach a state in which the war ends and I am permanently delivered. Not in this life. The self-life is natural to human beings, and after each victory over self, the old tendency begins to turn me back to the fleshpots. It is an everlasting war, a relentless struggle, a continuous fight. But it is not hopeless. Christ imparts His life to neutralize the self-life; and as I trust Him, He puts it to death. But I must keep trusting Him to keep putting it to death, or else it will return to damage me.

I will always be prepared to justify my attitudes, motives, and behavior before God. Instant confession is my means of keeping myself clean in the light. I must keep short accounts with God and be ready to give an explanation to Him on demand.

I will not demand that God explain Himself to me at any time, for this is characteristic of the unregenerate man. I must be willing to let God be unreasonable, in my view, if necessary, because He is not concerned with my understanding but with my faith. The unregenerate man sees contradiction in the world and demands that God justify Himself before him; the believing man makes no such demand but believes God supremely. He is only concerned with keeping himself justified before God.

I will endure hardness as a good soldier of Jesus Christ. The soldier executes the will of his officer. This means the soldier must be other-directed and other-compelled. To look inward is fatal to the man of war, but to look upward is both his salvation and joy. I will at all times seek to "please Him who called me to be a soldier" (see Timothy 2:4).
Mark Riley Music

For more on Mark Riley
read the current
MMI -Kauai: UPDATE
For his website
Click on his picture above!
Or write to him at:

Mark & Tami Riley
P.O. Box 1022
Lawai, HI 96765-1022 -USA

Music Missions Int'l-Kauai
Aloha Everyone!
Just to let you know
our NEW website is up and running! Stop by for a visit! If links above are not active just click web address at the bottom of this email. You will need the latest Flash Plugin info below for free download.
Much Mahalo to
Craig Valadez
for the new look to the MMI -Kauai website.

Until next time... Love Mark

The Latest Flash Plugin is required to view this site!
Macromedia Flash Player is the standard for delivering high-impact, rich Web content. Designs, animation, and application user interfaces are deployed immediately across all browsers and platforms, attracting and engaging users with a rich Web experience.

Click on the flash logo to install
Tax-deductible donations can be made to:
Music Missions International-Kauai (MMI-Kauai)
PO Box 1022
Lawai, HI 96765-1022 USA
Holy War

There is a battle raging
All throughout the land
Facing fierce attack
How shall we stand
They're plotting our destruction
They want to see us fall
Hate and rage unleashed
Who can we call

Such a strong opponent
Such a dark desire
To lie and hurt and steal
To burn us with his fire
Where is our protection
Is there a way to win
We need a new direction
Out of this mess we're in

The power's in His promise
Sealed with His blood
Bring His truth upon us
Learn to use His Sword
Bow down to worship
Lift up the Name
Daily submission
Bringing holy change

Join the resistance
Take back the land
Rise up to conquer
By the Father's plan
The enemy now falls back
Then turns to flee
In the name of Jesus
Live in victory!
Brother Dave
WHY GO TO CHURCH??
A church-goer wrote a letter to the editor of the newspaper and complained that it made no sense to go to church every Sunday. "I've gone for over 30 years now," he wrote, "and in that time I have heard something like 3,000 sermons. But for the life of me I can't remember a single one of them. So I think I'm wasting my time and the preachers are wasting theirs by giving sermons at all."

This started a real controversy in the "letters to the editor" column, much to the delight of the editor. It went on for weeks until someone wrote this clincher:

"I've been married for 30 years now. In that time my wife has cooked some 32,000 meals. But for the life of me I cannot recall the entire menu for a single one of those meals. But I do know this: They all nourished me and gave me the strength I needed to do my work. If my wife had not given me those meals, I would be physically dead today. Likewise, if I had not gone to church for nourishment, I would be
spiritually dead today!"

-Found circulating in email.