May the peace of the Lord be with you all.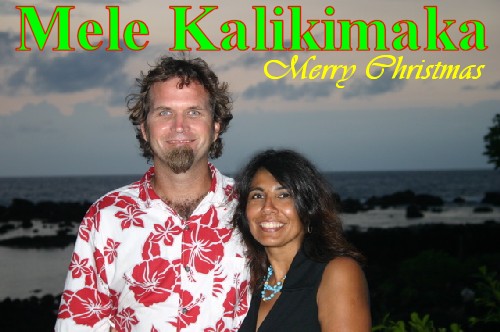 As we send out our last bit of news for the year and look back, we find so much to explain and be thankful for. We thank God that His presence makes all the difference. This year He has reminded us of that time and time again...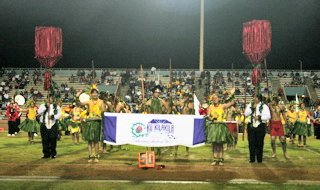 Kauai All Island Rose Parade Band Ku Kila Kila
Again this year we have had the privilege to go so many places and be with so many wonderful people. It warms our heart to look at the pictures of the past year and be amazed at the goodness and merciful kindness of our Lord. Soon we will be posting a new photo gallery page on our website

www.markrileymusic.com

that will contain some of the photos of last year's adventures. We really look forward to be able to share these photos that will help show how much God has done throughout the year.
In the midst of traveling and partnering in Music Missions this year we have had much to do at home; soccer games, numerous band practices and engagements for the Kaua'i All Island Rose Parade Band Ku Kila Kila with Lauren, Cory's 18th birthday and senior year, weddings, and not to forget all the preparing to be away for the Holidays in California for the first time ever for us as a family!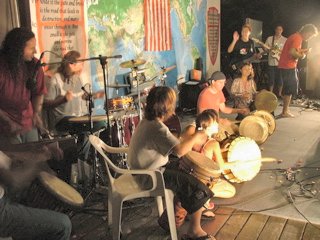 Drums for the nations
Truly as we look back so much has gone on, and we are so grateful to you who support us pray for us and at times surprise us with incredible thoughtfulness and generosity. In this partnership, along with traveling and giving to many others who could not afford to pay for everything, your support has allowed us to partner with new schools and ministries in both in Hawaii and Internationally. In the spring Mark was able to work with the first School of Worship in Bangkok Thailand and in the fall with the new Maui SOW. We also have been able to make a location recording for the Shan people of Burma who were in exile in Thailand. The project was comprised of songs done in the original Shan musical style with scriptures, Psalms and hymns for lyrical content. The music is comprised of a 7 gong drum , 10'(feet) tall hand drum and traditional style 10"- 12"(inch) hand cymbals with traditional style singing over the top. We are amazed that we were not only able to record the project for the more than 10 million internally displaced Shan people in Burma but that the message will go to a people that have never heard the scripture in their own song before. And all with a zero budget! Soon YWAM in Thailand will be helping produce and distribute the product to be released to the Shan nation in and out of Burma. We are looking forward to the message going out soon!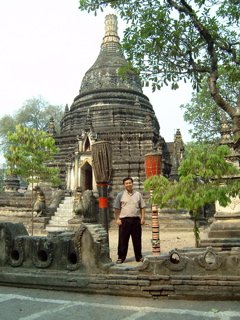 10 foot drum tracks for Shan Nation
All year long we have been able to donate many of our CD's. This has been such a fun experience, and we have heard from all over the world of testimonies and feedback. Again we are very grateful to those who help make this possible.

We need to mention our dear friends the Neil's who not only partner in heart and sacrifice with us but just make everything so much more fun with their friendship. And I would also like to receive gifts for them if any of you would like to help them as well. I am truly blessed, as many of you are, at their selfless giving to the Lord's work.
As we look toward next year, we will be praying in the Presence, for the heart of God and the decisions in faith for the new year. Some of the places we praying about are Thailand / Cambodia, India, Fiji, Nicaragua, Northwest USA and of course Hawaii. Obviously we can't do everything and we need to hear from the Lord and decide. We do hope that you will keep us your prayers for some of these things. We also would love to share any specifics of financial needs and responsibilities that we have. An although we desire to be responsible to the vision, we don't want to just ask for money but for you to allow God to connect you as well in this blessing of serving Him. We hope that you can be a partner with us this year as we see the door is open wide to share much in '05 (a year of much grace).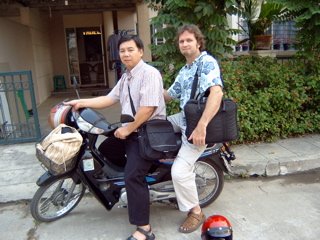 Location recording transport Thailand
With much love and appreciation,
Aloha Ke Akua,
Merry Christmas, Mele Kalikimaka

Mark, Tami and Riley family

Music Missions Int'l-Kaua`i
Go for God's presence...
Available workshops (partial list)
Music, Worship & Intercession
Barriers to Intimacy
Worship as a Lifestyle:
Spiritual & Physical Posture
Practical:
Spirit filled vs. Skillful
Serving in Love & Worship
Being on the Cutting Edge of Character
Creative Involvement: Breaking out of Ruts
Worship:
Music, Theory or Romance?
Who Am I, Why Am I Here?
Living in the Father's Love
Sound Reinforcement Basics: Running Sound As An Instrument
Team development
As invited, we come with a desire to serve the needs of the people and minister unto the Lord. MMI-Kaua'i does not charge a fee but is a missions based ministry that is solely funded by the faithfulness of God through the generous partnership of His people. Because we are operating by donations; love offerings, honorariums and any gifts are always needed for us to carry on. We have so many testimonies over the years of God doing the impossible. We are so grateful for all the partnership, especially the Lord's!
Our on going work in many different countries involves both music and speaking, such as:
Church services
Conferences / workshops
Intercessory prayer / praise events
Ministry / training schools
Music festivals
Refugee camps and missions
Outreach / and compassion ministry
Now he who supplies seed to the sower and bread for food will also supply and increase your store of seed and will enlarge the harvest of your righteousness. You will be made rich in every way so that you can be generous on every occasion, and through us your generosity will result in thanksgiving to God. This service that you perform is not only supplying the needs of God's people but is also overflowing in many expressions of thanks to God. Because of the service by which you have proved yourselves, men will praise God for the obedience that accompanies your confession of the gospel of Christ, and for your generosity in sharing with them and with everyone else. And in their prayers for you their hearts will go out to you, because of the surpassing grace God has given you. Thanks be to God for his indescribable gift! (2 Corinthians 9:10-15, NIV).
All donations are made are payable to Music Missions International Kauai
All funds directly support the work of the ministry.