David Reece Thomas and Rocky Sasaki
History building for the Christian churches on Kauai. A retreat where diversity and unity were joyfully experienced. -Guest Speaker Pastor David Reece Thomas, Calvary Community Church, Kailua-Kona, Big Island.
Our Pastors and Leaders Prayer Summit experience was a taste of heaven where we gathered around God's throne up at Camp Sloggett, praying and praising God from morning 'till night. Praise the Lord! -Pastor Rocky Sasaki, Kauai Island Ministries.
We are all different in the Body of Christ, we all need to function under our gifts, callings and anointings. As we recognize each one's giftings we can work together in unity. As we bear one another in love, and walk in our given grace so we can walk in unity. Unity comes out of relationships, especially praying together.
Pastor David Reece Thomas shared from his heart and ministered to me especially in the area of releasing my expectations for my children. I really enjoyed this Prayer Summit, Thank You Jesus. -Pastor Larry Matsuwaki, Thy Word Ministries.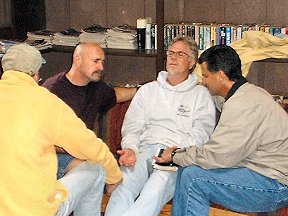 Doug Kozub, Rich Nolan, Leroy Metzger, Bob Hallman
The Pastors and Leaders Prayer Summit was an awesome 3 days together. What a joy it was to see Pastors' and Leaders of different churches loving and caring for each other. Singing, trusting, laughing, and affirming each other. Building strong relationships, I loved it!!! -Pastor Leroy Metzger, Hope Chapel Kauai.
The Pastors and Leaders Prayer Summit is personally and collectively a refreshing experience. The unified vision, worship and shaping our lives together no doubt will unleash Gods power and grace that will trickle down thru our congregations to the communities island wide; helping families, individuals in their struggles. Our leaders in the churches are of one mind for the welfare of our island. -Pastor Roy Chambers, Amazing Grace Church.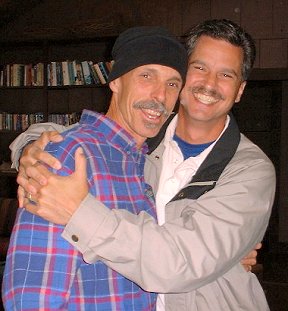 Roy Chambers and Bob Hallman
As I reflect on the beauty of what God did among us as pastors and leaders of the various churches of Kauai, I am reminded of Pauls prayer for the church in Rome. In Romans 15:5-6 when he prayed:
May the God who gives endurance and encouragement give you a spirit of unity, among yourselves as you follow Christ Jesus, so that with one heart and mouth you may, glorify the God and Father of our Lord Jesus Christ.
This prayer was fulfilled in our midst! -Pastor Bob Hallman, Calvary Chapel Kauai.
How wonderful to see and experience the humility, compassion, love, and power of Jesus Christ through the leaders of the various churches of Kauai. God is truly blessing our island with His Presence, His Spirit. -Kerry Crain, Hope Chapel Kauai.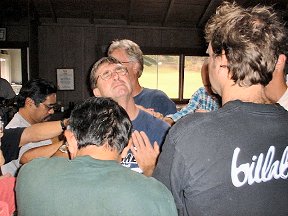 Kerry Crain getting prayed for