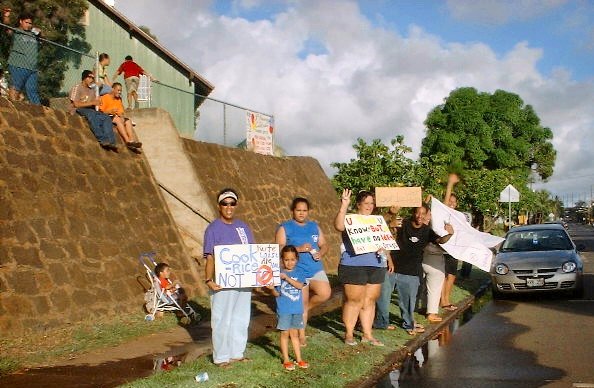 END ICE: the gathering
The date: September 25th. The time: 8:00 AM. The place: Terrace Restaurant, Kauai Lagoons, Lihue. For the KIM Pastors and Leaders Prayer/Breakfast Meeting. That morning it was raining somewhat hard. I remember getting from the parking lot to the restaurant completely soaked, luckily I had an extra T-shirt in my briefcase. So I was a little late in arriving to the Prayer/Meeting.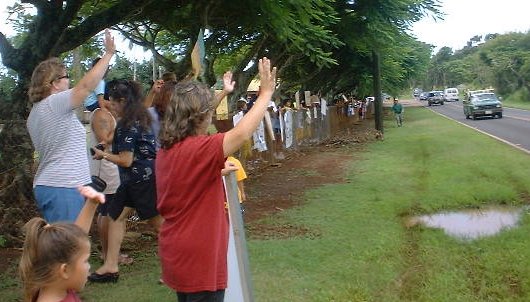 I knew this was going to be an important gathering, as for the month of September there was a heighten sense of drug awareness with newspaper articles and television shows and media coverage of community drug awareness events/meetings across Hawaii. As I entered the conference room, I was impressed with this image of the Knights of the Round Table.
Here on this day these few Pastors and Leaders from various churches on the island of Kauai gathered together to pray and seek God's guidance on this State wide epidemic: ICE. I was in awe of the intensity of the prayer time. It was evident that through the heartfelt prayers and the passion that was in that room, something was happening.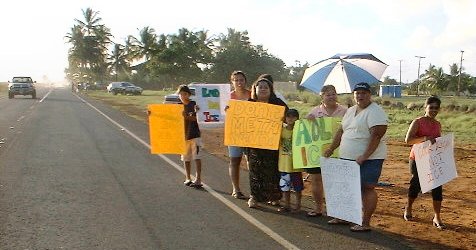 These next scriptures came out of the prayer time:
"Then you will know the truth, and the truth will set you free." -NIV John 8:32

So if the Son sets you free, you will be free indeed. -NIV John 8:36

It is for freedom that Christ has set us free. Stand firm, then, and do not let yourselves be burdened again by a yoke of slavery. -NIV Galatians 5:1

If my people, who are called by my name, will humble themselves and pray and seek my face and turn from their wicked ways, then will I hear from heaven and will forgive their sin and will heal their land. -NIV 2 Chronicles 7:14

For our struggle is not against flesh and blood, but against the rulers, against the authorities, against the powers of this dark world and against the spiritual forces of evil in the heavenly realms. -NIV Ephesians 6:12

For the weapons of our warfare are not carnal but mighty in God for pulling down strongholds... -NKJV 2 Corinthians 10:4

Then Jesus returned in the power of the Spirit to Galilee, and news of Him went out through all the surrounding region. -NKJV Luke 4:14
These twelve Jesus sent out and commanded them, saying: "Do not go into the way of the Gentiles, and do not enter a city of the Samaritans. But go rather to the lost sheep of the house of Israel. And as you go, preach, saying, The kingdom of heaven is at hand." -NKJV Matthew 10:5-7
These next quotes came out of the prayer time:
Will you not revive us again... -NIV Psalm 85:6a
Pray that the Holy Spirit will cleanse and revive us to touch the lives of our people to proclaim Jesus Christ is Lord!
If my people, who are called by my name, will humble themselves and pray and seek my face and turn from their wicked ways, then will I hear from heaven and will forgive their sin and will heal their land. -NIV 2 Chronicles 7:14
The Key: "If My people..." We pray for the church to awake, cry out and pray!
Pray for our children's safety at schools. It's OK to ask for help. Start preventative measures from Elementary Schools. Teach the basic things of life. Be sensitive and pray without ceasing.
Obedience is better than sacrifice! Disobedience leads to rebellion, rebellion is as the spirit of witchcraft, witchcraft is as the spirit of pharmakea, witchcraft is manipulation and control. Pray for obedience, willing to submit to God and His word.
Get Reality from Jesus, NOT drugs!
Pray for the Unity of Kauai's church leaders
Seek God's face. Humility. Pray. Repeat.
He whom the Son set FREE is FREE indeed!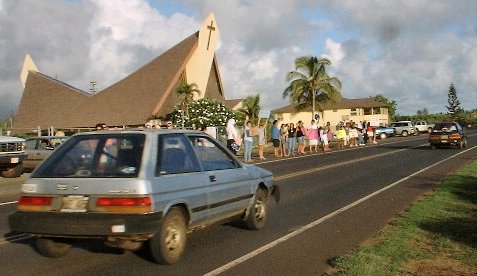 Rocky Sasaki, President of Kauai Island Ministries received a letter from the Aloha United Way. It states;
"Aloha United Way 211 is a free, 24 hour community information and referral line available on all islands. By dialing 2-1-1, people can receive information on more than 4,000 government and nonprofit programs and services in our state."
"In the week after Edgy Lee's 'Ice' documentary aired, 211 received more than 200 related calls, including more than 30 from people interested in volunteering in their communities. Thank you for allowing us to provide your number as a point of contact."
"A majority of the calls were from people searching for substance abuse treatment. The 211 database includes information on drug treatment, detoxification, counseling, support groups, sober living centers and prevention programs. All calls are confidential."
"211 also provides information for people seeking food, shelter, financial assistance, job training, domestic violence shelters, free children's medical insurance, government information and much more. Last year, 211 answered more than 47,000 calls for help."
If you would like to be a part of this War against ICE please contact Rocky Sasaki @ 246-0774.
Reporting for KIM Communication Center. -Mahalo BC