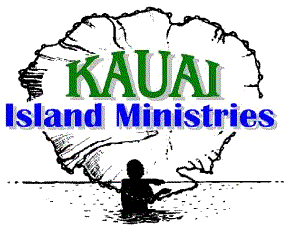 We are honored that you are visiting our web site. Being an interdenominational organization, we are always striving to find new ways to help support the Body of Christ here on Kaua`i. This web site allows us to create an environment where the Body of Christ here on Kaua`i can come together in unity by posting special events and or happenings here on Kaua`i. Articles written by local pastors and various ministries here on Kaua`i.

Please use this site to access the information you need about Kaua`i Island Ministries and as a resource for broadening your faith. We look forward to hearing from you and answering any questions you might have.
"True it is that every man willingly followeth his own bent, and is the more inclined to those who agree with him. But if Christ is amongst us, then it is necessary that we sometimes yield up our own opinion for the sake of peace. Who is so wise as to have a perfect knowledge of all things? Therefore trust not too much to thine own opinion, but be ready also to hear the opinion of others. Though thine own opinion be good, yet if for the love of God thou foregoest it, and followest that of another, thou shalt the more profit thereby."
... Thomas a Kempis (1380-1471),
Of the Imitation of Christ
Kauai Island Ministries Email Updates
Friends of Kauai Island Ministries

If you would like to receive a periodic e-update of Kauai Island Ministries' (KIM) news and events. Submit your info below in the "Friends of Kauai Island Ministries" and you will be placed on our mailing list!