----- Original Message -----
Sent: Thursday, April 24, 2003 8:10 PM
Subject: URGENT: Update on Media & D.O.E. - Need Your Help Now!
April 24, 2003
FROM: Keli'i Akina
RE: URGENT: Update on Media & D.O.E. - Need Your Help Now!

It's working! A fair and balanced view is starting to reach many of the media outlets. One TV station adjusted its presentation as a result of a phone call. As to Student Kit distribution, by Friday, 70% of all public schools statewide will be completed. So far, teens at each school have distributed between 85-100% of their kits, and we're getting reports of kids receiving Christ!

WE URGENTLY NEED MORE VOICES TO CALL THE D.O.E. IN PERSON: As of Thursday evening, the DOE Information Office said they'd received only 2 positive phone calls that day but had fielded many negative ones all day long!

HERE'S WHAT WE MUST DO NOW:

1) On Friday morning to early afternoon, call the Superintendent's Office with positive support for her position of letting the students exercise their right to distribute the SSKs. If you can report on anything you know or feel to be positive about distribution at a school, do so. Call Superintendent Patricia Hamamoto at one of the following: 586-3230, 586-3310 or 586-3587.

2) E-mail or fax the D.O.E. at an address OTHER THAN webmaster@k12.hi.us. If you already sent to this address, your e-mail may now be discounted as part of a campaign. Yes, it is part of our response campaign, but it is first and foremost your personal opinion and should not be discounted. It has a right to be heard. So send new e-mails (even if you sent one to the first address) to the following: Patricia_Hamamoto@notes.k12.hi.us. Send a fax to the Superintendent at 586-3320.

3) Call individual schools, especially where you may live or your children may attend, to thank the school.

4) If you can, don't forget to send letters to the editor at Star-Bulletin and Advertiser at: letters@starbulletin.com or letters@honoluluadvertiser.com.
5) It will also help to contact the Board of Education at phone 586-3334 and fax 586-3433. If you can, talk with individual members of the Board.

Thank you for your tremendous support. If you need information about the SSK distribution, read the news release at www.yfchawaii.org.

For Christ and Kids,

Keli'i Akina
Executive Director
Hawaii Youth For Christ
Ph: 946-1300
Personal E-mail: kelii@yfchawaii.org
Teenagers Distribute Gifts of Faith To Friends
Student Survival Kits Go Out Statewide

Beginning on April 21, 2003, teenagers across the state of Hawaii are distributing 70,000 Student Survival Kits (SSK's) to their high school and middle school friends. Each SSK consists of an attractive bright yellow bag containing seven inspirational and motivational items, including an original local music CD, a videocassette, a book, other literature, and a web card (see itemization below). More than 1,500 teenagers on all islands are participating in the student-led give-away project. They represent groups on all public high school and middle school campuses as well as at most private schools and in the home-school movement.

The SSK distribution was made possible by the generous contributions of more than 185 local churches and community organizations as well as private individuals who comprise the Jesus Hawaii Project. Representing parishes and individuals from virtually all denominations, the Jesus Hawaii Project is the broadest interdenominational movement of its kind. The Jesus Hawaii Project raised a record $1.67 million to fund the purchase and production of SSK's ($335,325) as well as the separate mailing of the Jesus Video as an Easter gift to Hawaii Families. The coordinating organization for student distribution is Hawaii Youth For Christ, which partnered with a mainland group (Campus Crusade For Christ) to produce the SSK's.

Jesus Hawaii Project Chairman and Executive Director of Hawaii Youth For Christ, Kelii Akina says that hes thrilled to see the level of teenager interest in the SSK. Akina says, "We've traveled across the islands, and I'll tell you, teenagers are supercharged with enthusiasm. It's because they truly value the importance of faith as a component of life that they want to share the SSK's with their friends. Through the gift of an SSK, a teenager can help a friend know that life is more than simply money, career, sports, or entertainment."

Akina continues, "What is truly heartening about the SSK distribution is that it is taking place teen to teen. Churches and the community bought the materials, and Hawaii Youth For Christ equipped teens on how to use their Constitutional First Amendment rights while respecting those of others. But teenagers are the ones making the distribution happen."

More than 1,500 teenagers from nearly all islands participated in Hawaii YFC run seminars between February and April in which they learned about the SSK's and had the opportunity to sign up to obtain them for distribution to friends at school. An important part of the seminar training covered the value of respecting the rights of other students to refuse the SSK if they were not interested. Teens were taught how to offer the gift while honoring the intentions of others. Student organizers have been instructed not to distribute kits during classroom time, not to harass others and to have any adult helpers, such as parents who help them drive supplies, remain off campus.

Student groups at schools are only allotted enough kits to cover 60-70% of campus populations, an estimate of projected student interest. This is so that there is no attempt to force students without interest to take one. The voluntary nature of the distribution project has been emphasized to all parties involved. Early reports from distributions on April 19th and 20th indicate that interest in getting the SSK is so high that, at several schools, teenagers completely ran out of their entire allotted supply on the first day of distribution. This happened at Mililani High School and Lahainaluna Middle School, two of the first schools at which students distributed packets to their friends. Organizers have heard anecdotally that it is happening elsewhere.

On April 23rd, one teenager who goes by the web-name Dork22 wrote the following in Xanga, the public on-line web-logging journal (i.e., blog): SSKs flew today, it went very...interestingly. lotsa students were like, "where's mine?! i want one too!!" very groovy.

The Hawaii distribution is the largest of its kind in the nation, three times the size of the next largest effort. That was sponsored by churches and community groups in the Upper Peninsula of Michigan in 2001. In the weeks following the events of September 11th, Campus Crusade for Christ gave away several thousand in New York City Schools.

Kelii Akina says: "Todays teenagers are embracing faith in record numbers because they see its value in a world filled with terrorism, war, the threat of diseases, and materialism. Parents and educators also see the value of faith in that the latest studies link religious activities with a decrease in drug, alcohol and sexual promiscuity by teens. The SSK distribution helps to support these values."

Each Student Survival Kit contains:

1) "One Answer" CD, a locally Hawaii YFC -produced album featuring the following musical artists who donated their talent and most of the production costs: Na Leo Pilimehana, Kumie, Sam Kapu III, Koa Siu, Trisha Nakamoto, Olivia, Native Roots, 7 Simple Pieces, and Unlearn.

2) "The 3-D Video," an MTV-style presentation produced by Campus Crusade of the balanced life philosophy: Life is physical, mental, social and SPIRITUAL!

3) "The Tool," an art-filled book, produced by Hawaii YFC, helping teenagers think through the issue of Where does the universe come from?

4) A Web-card with links to youth-oriented sites.

5) A New Testament in contemporary, teen language.

6) The 3-D booklet with advice on growing spiritually.

7) "More Than A Carpenter, 911 Recovery Edition" a book by Josh McDowell, explaining who the historical figure of Jesus is.

xxx

Sample SSK's are available for the news media from the YFC office at 946-1300.
For more information, contact Kelii Akina at 946-1300 or cell phone 256-9792.
Jesus Hawaii Project: Update March 2003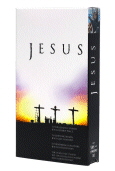 Aloha Partner in Christ,
It is my privilege to report to you that, as of March 3, 2003, God's people in Hawaii have met 100% of our pledge goal of $1.67 million to fund the Jesus Video and Student Survival Kits. And, heres additional good news, 99% of this figure has already been fulfilled.
Beyond the videos and student kits, what must still be raised is approximately $50,000 for television commercials and other media to make sure that people are driven to watch their videos when they arrive.
Heres the basic data on the Jesus Hawaii Project so far:
Coming throughout Hawaii the week of April 7th, 2003
497,350 Jesus Videos.
80,100 Student Survival Kits.

Every island. Every mailbox.
Every high school, middle school and college campus.

175 sponsoring churches.

$1.67 million raised so far.
Only $50,000 to go!
The opportunity to give to the Jesus Hawaii Project will soon come to a close. So I hope no Christian pastor, JHP team member or church congregation member will miss out on the blessing of giving personally to this historic work of God in the islands.
For this reason, we are encouraging all parties to send your contributions BY MARCH 20TH AT THE LATEST. We also gladly welcome additional contributions from partner churches, and we can include new church partners on our web-site.
You may send your tax-deductible checks to Jesus Hawaii Project c/o Hawaii Youth For Christ (PO Box 11145, Honolulu, HI 96828).
Soon, the islands will be impacted as never before by the Gospel of Jesus Christ. I am grateful to all churches and individuals who have made the Jesus Hawaii Project possible. And I am humbled by the miraculous work of our Heavenly Father. Ho'onani I ka makua mau (Praise God from whom all blessings flow)!
Your servant in Christ,
Kelii Akina
Chairman, Jesus Hawaii Project
Executive Director, Hawaii Youth For Christ

Ph: (808) 946-1300
Personal e-mail:
kelii@yfchawaii.org